HAS YOUR CHILD BEEN USING JUUL E-CIGARETTES?
New documents obtained by Congress show JUUL e-cigarettes were marketed to children and teenagers as young as eight years old.

JUUL Pods contain a high level of nicotine which increases the risk of

long-term nicotine addiction

in children and young adults.
Does Your Child Vape With "JUUL"?
If your child uses a JUUL e-cigarette device, we encourage you to call 888-353-5513 or complete the free case evaluation form. You may be eligible for substantial compensation.
THE DANGERS OF YOUR CHILD Using JUUL E-Cigarettes
Nicotine use has been linked with a number of health and developmental problems in humans, particularly in teens and young adults. This is why parents and teachers around the country are now concerned about the growing popularity of the JUUL e-cigarette.
A small, discreet USB-shaped vaping device, the product has taken over the market share for e-cigarettes and has become "the" e-cigarette option for teens, who brag about "JUULing," even when they're in class. Meanwhile, though JUUL Labs states that their mission is to improve the lives of smokers, they continue to create nicotine solutions and flavors that are attractive to children.
What is the JUUL E-Cigarette?
The JUUL e-cigarette is a vaping product created by JUUL Labs, which is a spinoff of Pax Labs, a leading vaping company. It is shaped like a USB drive, and uses a heating element (battery run) to activate a solution that produces a nicotine-laced aerosol that the user inhales.
The JUUL e-cigarette came on the market in 2015, and since then, has become the most popular e-cigarette out there. According to Nielsen data, in December 2017, JUUL controlled nearly a third of the market, and had generated a revenue growth of $224.6 million that year.
NBC News announced in December 2017 that because of its amazing growth, JUUL was breaking off from Pax to become its own independent company, focusing solely on customers seeking a cigarette alternative.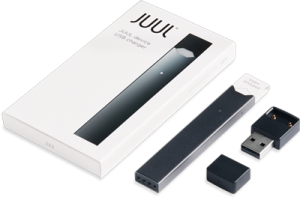 JUUL states on their website that their mission is to "improve the lives of the world's one billion adult smokers." They add that they believe "vaping can have a positive impact when used by smokers."
E-Cigarettes Are Not as Safe as Advertised
E-cigarettes, when they first came on the market in 2007, were advertised as the "safer" alternative to regular cigarettes, and as potential tools to help smokers quit. They aren't made with tobacco, and they don't involve a flame, so they don't create the tar and other dangerous toxins and carcinogens that are produced by typical cigarettes.
Instead, they are battery-operated devices that allow a new way to deliver nicotine to the user. Nicotine remains an addictive substance with its own set of potential health hazards, but rather than deliver it through tobacco, the e-cigarette delivers it in a solution that is heated and creates a nicotine-laden vapor the user then inhales.
Scientists agree that e-cigarettes lack the toxins that are present in regular cigarettes, but as to whether that means they're safer remains to be seen. In fact, several studies have shown the opposite—that these products may be just as potentially dangerous or even more dangerous than regular cigarettes.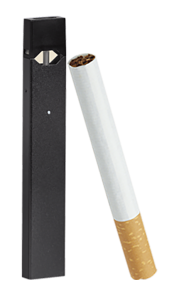 McWhirter, Bellinger & Associates, P. A.
Whether you, or your family, are injured by a product like the JUUL e-cigarette, or another dangerous drug or product, we are here for you.
McWhirter, Bellinger and Associates, PA has over 45 years of experience in helping injured South Carolinians.  With offices in Columbia, Lexington, Sumter, Orangeburg, Camden, Newberry and Aiken, we are never far away when you need us.
Our law firm also handles auto accidents, workers' compensation, medical malpractice, motorcycle accidents, slip and falls, nursing home abuse and other forms of personal injury.
Call Us Today:
888-353-5513
COLUMBIA
1807 Hampton Street
Columbia, SC 29201
ph. 803-252-5523
LEXINGTON
119 East Main Street
Lexington, SC 29072
ph. 803-359-5523
ORANGEBURG
104 Office Park Drive
Orangeburg, SC 29118
ph. 803-536-4005
CAMDEN
919 Broad Street
Camden, SC 29020
ph. 803-425-5523
SUMTER
485 N. Lafayette Drive
Sumter, SC 29150
ph. 803-773-5523
AIKEN
231 Pendleton Street NW
Aiken, SC 29801
ph. 803-529-3476
NEWBERRY
2203 Wilson Road
Newberry, SC 29108
ph. 803-321-0451
© 2019 McWhirter, Bellinger, Associates, LLC
South Carolina Personal Injury Disclaimer: McWhirter, Bellinger & Associates, P.A. provides the information in this web site for informational purposes only. The information does not constitute as formal personal injury advice. The use of this site does not create an attorney-client relationship. Further communication with our attorneys through the web site and e-mail may not be considered as confidential or privileged. No fee or cost if no recovery. Fee computed before deducting expenses from recovery. This fee structure is for personal injury claims and exclude criminal or social security related cases. Please contact our South Carolina accident attorneys if you wish to discuss in more detail the contents of this web site. Pat McWhirter – 1807 Hampton Street, Columbia, SC 29201