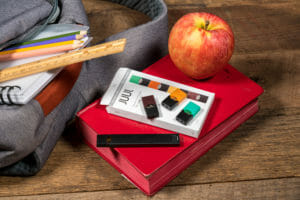 Schools across the United States have joined a class-action lawsuit against JUUL, claiming the e-cigarette maker targets minors in advertising campaigns and downplays the health risks associated with vaping. Lexington School District One in South Carolina is one of the plaintiffs.
The lawsuit, filed in federal court in California, alleges that JUUL targets students by enticing them with fun and fruity flavors. Lexington One, which joined the lawsuit in October 2020, says that vaping has interfered with everyday school operations, adding that suspensions over e-cigarette use have sharply risen over the past two years.
Richland Two, South Carolina's fifth-largest school district, is also mulling whether to join the lawsuit. School district trustee Amelia McKie acknowledged a February 9 proposal to sue, which was prompted "because of the addictive nature of vaping" and the "potential for health problems and other consequences for our students…"
The lawsuit seeks to recoup expenses related to addressing in-school JUUL vaping, including hiring extra personnel to monitor e-cigarette use in hallways and bathrooms. Some schools have been forced to buy expensive vaping detectors, while others have used resources on educational programs to inform students and parents about the effects of vaping.
Nationwide statistics show that parents and schools do have cause for concern. According to the Centers for Disease Control (CDC), more than 21% of South Carolina high school students currently use tobacco products. The most used products are e-cigarettes, and students report using JUUL more than any other brand.
The lawsuit comes after years of scrutiny against JUUL, which has come under fire for allegedly targeting teens with their sleek designs and fruity flavors. The company also markets their products as a "satisfying alternative to cigarettes," even though they contain nicotine and expose the lungs to dicetyl, which can cause bronchiolitis obliterans (popcorn lung).
E-cigarettes also carry other serious health risks. Those who vape have a 71% greater risk of stroke than those who don't. Research has also found that e-cigarette users have a 59% greater risk of heart attack or angina, and a 44% higher chance of developing circulatory problems such as blood clots.
As schools across the country sign on to the class-action lawsuit against JUUL, individuals are also filing their own lawsuits against the e-cigarette maker. If you or your child have become addicted to JUUL vaping devices, been diagnosed with "popcorn lung," or experienced other health problems related to e-cigarettes, you may be entitled to compensation.
We at McWhirter, Bellinger & Associates are standing by to help in any way we can. We understand the risks associated with vaping, and our team of lawyers would love to hear your story and determine whether you have a case. We have offices across the state of South Carolina, in Aiken, Camden, Columbia, Lexington, Newberry, Orangeburg, and Sumter.
If you have been negatively impacted by JUUL e-cigarettes, give us a call today at 803-590-9242. It won't cost you anything to see if we can help®.