If you have been diagnosed with Hepatitis A and believe you may have been infected at a restaurant, you may be entitled to financial compensation.
Hepatitis A Overview
Hepatitis A is a highly contagious viral infection causing inflammation of the liver. Some who become infected by the virus never develop symptoms, but for those who do have symptoms, they usually develop two to six weeks after being exposed. Symptoms include loss of appetite, fever, stomach pain, nausea or vomiting, diarrhea, dark urine and yellow skin (jaundice).  Symptoms can last for a few weeks to several months.
How is Hepatitis A spread?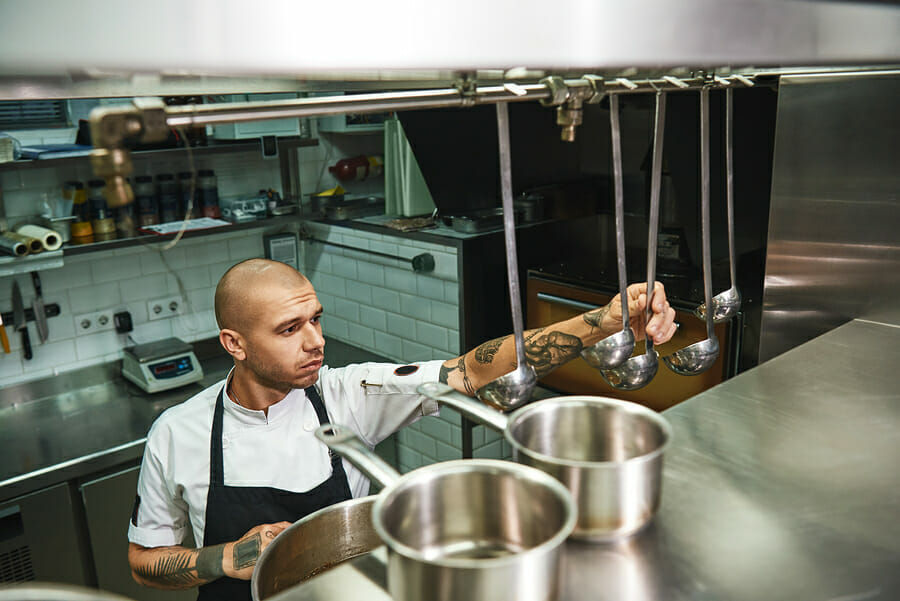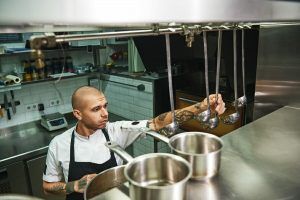 Most people get Hepatitis A by person-to-person contact with someone who has the infection or through eating or drinking food or water contaminated by an infected person. The most recent outbreak in South Carolina was caused by infected workers preparing food in restaurants.
You can also be infected by the Hepatitis A virus if you:
Eat fruits, vegetables, or other foods that were contaminated during handling
Eat raw shellfish harvested from water that has the virus in it
Swallow contaminated ice
What to do if you think you have Hepatitis A infection?
If you think you may have Hepatitis A, see your doctor. A blood test can detect if you have been infected.  While there is no specific treatment for the virus, your doctor might be able to lessen your symptoms. If the infection is severe, hopitalization may be needed. Because Hepatitis A is a highly contagious virus, your doctor is required to report it to government agencies so that others may be warned about possible infection.
Hepatitis A Outbreak in South Carolina
Hepatitis A cases began to increase in South Carolina in fall 2018. An outbreak of Hepatitis A was declared in Aiken County on Feb. 13, 2019 and DHEC declared a statewide outbreak on May 13, 2019. This outbreak coincides with a national outbreak that began in 2016.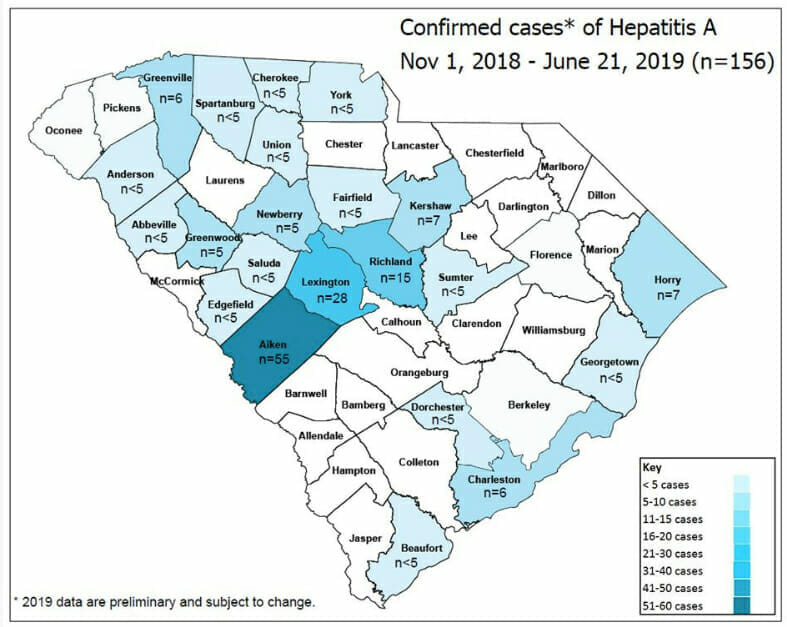 Restaurants known to have had workers infected with Hepatitis A
Hardee's in Richland County – 451 Killian Road – Reported June 21, 2019
Zaxby's in North Charleston – Reported June 5, 2019
Wild Wing Cafe in Lexington County – Reported May 21, 2019
Teriyaki Japan in North Augusta – Reported May 30, 2019
Popeyes in Aiken – Reported June 18, 2019
Harbour Town Yacht Club in Hilton Head – Reported June 18, 2019
Huddle House – West Dekalb Street in Camden – Reported June 28, 2019
What if you get Hepatitis A from eating at a restaurant?
The most recent outbreaks in South Carolina have come from food preparation workers infected with Hepatitis A in several restaurants.  Through the handling of food or beverages, these workers have passed the virus to customers.  If you have visited a restuarant and been diagnosed with Hepatitis A, you may be eligible for financial compensation.  Keep in mind, Hepatitis A may take up to six weeks for symptoms to be evident, so you may have contracted the virus from a restaurant over a month ago before being diagnosed by your doctor.
The law firm of McWhirter, Bellinger & Associates may be able to help you recover financial damages caused by your exposure to Hepatitis A in a restuarant. If you have been diagnosed with Hepatitis A, and believe you may have been exposed at a restaurant, call our office at 803-529-3476.
With offices in Aiken, Camden, Columbia, Lexington, Newberry, Orangeburg, and Sumter, we are here when you need us.