Slip-and-Fall Attorneys in South Carolina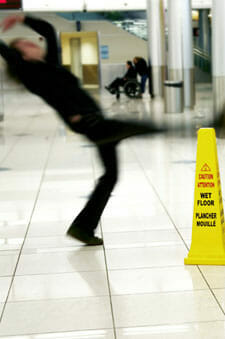 When a person purchases property, especially for the sake of doing business, he or she undertakes certain responsibilities. Among them is keeping the property in reasonably safe condition for those who are permitted or invited to be there. The total of these responsibilities is known as premises liability.
Unfortunately, many times property owners fail to put in the time or resources necessary to maintain the property, leading to spinal cord injuries and other slip and fall injuries suffered by people who have come to the property to conduct business or merely pass through. The most common form of injury suffered as a result of fault maintenance is slip and fall injuries. Unfortunately, insurance companies, looking after their own bottom line, also try to cut corners by denying many slip-and-fall injury claims. To make sure you receive just compensation for your slip and fall injuries, you need a lawyer who understands slip and fall accidents and the complexities of a premises liability claim.
At McWhirter, Bellinger, & Associates, P.A., our slip-and-fall attorneys in South Carolina know that the cost of your injury can be very high, including:
Medical bills, both actual and projected for:

Hospitalization
Surgery
In-home care
Physical therapy
Occupational therapy
Severe injuries, such as traumatic brain injuries

Lost wages and/or vocational training if your injury prevents your return to your previous job
Pain and suffering
A personal injury attorney at McWhirter, Bellinger & Associates understands what it takes to win a personal injury lawsuit. We are prepared to actively pursue your premises liability case until we achieve the full measure of compensation to which you are entitled. Our slip and fall accident lawyers are prepared to fight on your behalf to hold property owners responsible for the dangerous conditions their properties remain in.
What To Do if You Fall in a Store
We have all heard horror stories about someone having a slip and fall accident on water, ice, grapes, a banana peel, and various other things while shopping in a store. Many people believe that if you fall on someone else's property that the property owners are automatically liable for any damages that are suffered as a result of the slip and fall accident. However, for slip and fall accidents in South Carolina this is not the case. In order to recover for your fall injuries you must prove that the store is liable for your damages in order to have a compensable case. Generally, if you fall in a store you must show one of two things in order to prove liability on the part of the store. First, you can prove that the store or one its employees created an unreasonably dangerous situation that caused the fall and resulting injuries. Or second, you can show that someone else created dangerous conditions that the store knew or should have known about but failed to fix within a reasonable time. With this in mind, here are a few tips to keep in mind if you or a loved one suffers a slip and fall accident in a store.
First and foremost, if you need medical attention, seek it immediately.
Report your fall to an employee of the store and make sure the incident is documented.
Do your best to determine what caused you to fall.
If possible, get pictures of the scene so that you can accurately document how it looked at the time of the incident.
Talk to a store employee about filing a claim for your injuries.
How Do Slip-and-Fall Accidents Occur?
Slip-and-fall accidents can happen to anyone, anywhere, at any time. Here are some of the most common slip-and-fall accidents that occur in South Carolina:
Wet floors – Includes floors that are wet due to recently being cleaned or waxed or due to spills.
Uneven walking surfaces – Includes torn or bulging carpeting, loose floorboards/tiles, and other types of damaged floors.
Poorly constructed staircases – Stairs that are broken or have missing or loose handrails.
Inadequate lighting – When a place of business is not adequately lit inside and/or outside the building, falls are more likely to occur.
Hazardous outdoor terrain – Includes potholes, broken asphalt/sidewalks, icy/snowy entrances, and other hazardous conditions in the parking lot or on a path leading to the place of business.
It's important to remember that business owners in South Carolina have a duty of care to anyone who has a legal right to be on their property. In other words, they have a responsibility to fix or remove dangerous conditions once receiving notice of the problem.
There are two types of knowledge that owners can receive when it comes to dangerous conditions in South Carolina: actual knowledge and constructive knowledge.
Actual knowledge is when the owner is aware of the actual problem, while constructive knowledge refers to a problem the owner should have known about.
Examples of actual knowledge:
An employee states they were aware of a wet floor but failed to do anything about it
An employee mopped a floor but failed to put up a "wet floor" sign
An employee started to clean up a spill but got distracted, only cleaning up 50% of the spilled liquid
Examples of constructive knowledge:
Employees were near a spill site but failed to observe their surroundings as they were trained to do
A spill was very obvious and should have been noticed by staff (such as a jar of red spaghetti sauce spilled on a white floor)
A customer slips on melted ice cream, suggesting a substantial amount of time likely passed between the spill and the fall, suggesting that staff had ample time to discover the spill
Here are the most common injuries caused by slip-and-fall accidents:
Broken bones
Concussions
Cuts & lacerations
Hip injuries
Internal injuries
Knee & ankle injuries
Neck injuries
Shoulder, elbow & wrist injuries
Soft tissue injuries
Slip-and-fall accidents can have lasting effects on a person's physical health, as well as their emotional well-being. That's why it's important to seek medical attention right away if you experience a slip-and-fall accident. If you're seriously injured, you're advised to speak with a South Carolina personal injury lawyer who can listen to your story and advise you on your next steps. If you decide to file a claim, a skilled attorney will be able to accurately calculate what your case is worth, ensuring you don't accept a lowball settlement offer from the other side's insurance company.
What Must You Prove to Win a Slip-and-Fall Injury Claim?
What must you prove to win a slip-and-fall injury claim?
Slip-and-fall cases aren't as straightforward as they might seem. Even if a fall left you seriously injured, and even if the entire fall was caught on security footage or seen by witnesses, you would still have to establish negligence in order to be eligible to receive compensation.
The first thing a person must do when determining if a property owner's negligence caused a slip-and-fall accident is to investigate whether they owed a duty of care to the person who fell.
Duty of care
Duty of care is usually easy to prove, as South Carolina law states that property owners owe a duty of care to anyone on their premises who has the right to be there.
In other words, a customer in a store, a patient at a doctor's office, a guest in a hotel, or any other visitor to an establishment who isn't a trespasser is typically owed a duty of care by the property owner. This means the owner has a responsibility to keep the property safe and to warn visitors of dangers whenever unsafe conditions exist.
Breach of duty
Once it has been determined that the property owner owed you a duty of care, you must establish that the duty of care was breached as a result of the owner's negligence.
The duty of care can be breached in any number of ways, but here are some examples of negligence that are commonly seen in South Carolina:
Failure to clean up a spill
Failure to fix or replace torn carpet, tile, or wood
Failure to install or maintain handrails
Failure to maintain safe parking lot conditions
Failure to properly light the premises
Failure to remove obstructions from the floor or ground
Again, these are just a few common examples. If you've been seriously injured on someone else's property due to a reason listed above or any other reason, you should seek a consultation with a South Carolina slip-and-fall lawyer.
A personal injury attorney will work hard to determine the answers to the following questions in order to build the strongest case possible:
What caused your fall?
How long had the danger existed?
Was the property owner or manager aware of the danger? Should they have been?
Was the danger clearly marked with a sign or in another obvious way?
A South Carolina personal injury attorney will also work to gather the following information which can help strengthen your case:
Emails or texts which prove the owner or manager knew about the fall hazard
Evidence obtained from the scene of the fall
Photos or videos taken by you or witnesses at the scene
Property maintenance records
Surveillance footage
Witness statements
What Should You Look For After A Fall?
You might know that you've been seriously hurt and require medical attention immediately after a fall. However, it's also possible that you won't feel pain right away – but that doesn't necessarily mean you haven't been injured.
Some injuries and types of pain can simply take more time to become apparent. That's why it's important to carefully observe any new symptoms that might appear after you have fallen.
Traumatic Head Injuriesand Concussions
These are common when a person hits their head during a fall.
Here are some of the most common symptoms associated with traumatic head injuries:
Confusion
Dizziness
Drowsiness
Headache
Fatigue
Feeling disoriented
Loss of consciousness
Memory or concentration problems
Nausea or vomiting
Ringing in the ears
Sensitivity to light and/or sound
Speech problems
Vision changes
Spinal Cord Injury
Another extremely serious injury that can result from a fall is spinal cord injury. This type of injury can even lead to paralysis. 
See a doctor right away if you experience any of the following symptoms associated with spinal cord injury:
Head tilted in an unnatural way
Headache
Inability to move arms or legs
Inability to walk
Loss of bladder and/or bowel control
Loss of consciousness
Numbness or tingling in the fingers and/or toes
Pain, pressure and/or stiffness in the back or neck
Broken Bones
Broken bones are also very common after a fall. Here are some signs that you might have a broken bone:
Bone has shifted from its normal position
Bruising, swelling, tenderness, or numbness at the injured area
Grinding sound when you move the affected area
Pain at the injured area
Snapping sound occurred when the injury happened
Worsened pain when you touch or press the affected area
Sprains and Strains
These types of injuries happen a lot as a result of a fall, largely due to the fact that fall victims often put their arms out to catch themselves or twist their body in an unnatural way to try to lessen the impact of the fall. These types of injuries can be painful, and can also cause torn ligaments and stretched tendons.
Here are some signs you might have a strain or sprain:
Bruising at the site
Muscle spasms
Pain at the site
Hip Fractures
A broken hip can lead to serious disability if not dealt with in a timely and appropriate manner.
Here are some signs that you may have a hip fracture:
Bruising and swelling in the hip area
Inability to stand
Inability to walk
One leg shorter than the other on the injured side
One leg turning outward on the injured side
Severe pain in the hip region
Unable to put weight on one side of your hip
Knee Injuries
It's natural for a person who is in the midst of a fall to use their knees to break the fall. However, this instinct can lead to serious knee injury.
Here are some signs that you might have a knee injury:
Bruising on the knees
Inability to straighten the knee
Instability or weakness when standing
Knees that are red
Knees that are warm to the touch
Popping, clicking, or grinding noises around the knees
Stiff knees
Swelling around the knees
Tailbone Injuries
It's uncommon for tailbones to be broken during a fall, although it is certainly possible. A tailbone is more likely to be injured but not fractured.
Here are some things to look out for when it comes to tailbone injuries:
Swelling and/or bruising around the bottom of the spine
Pain or numbness when sitting
Pain or tenderness in the lower back and/or upper buttocks area
Dislocated Shoulder
Shoulder dislocations can also happen as a result of a fall.
Here are the common signs of a shoulder dislocation:
Inability to move the shoulder or use the injured arm to lift weight
Muscle spasms
Shoulder seems out of place from its usual position
Tingling, weakness, or numbness in the arm or neck
Cuts and Bruises
Cuts and bruises might seem minor, but they can also signal that something more serious is going on beneath the skin. For instance, a nasty bruise could be a sign of internal bleeding, or a laceration could mean you need a tetanus shot right away.
Be sure to take plenty of photos of any bruising, swelling, or scarring. It is best to take pictures daily as the healing process takes place.
Causation & Harm
Slip-and-fall victims must also be able to demonstrate that the property owner's breach of duty caused their injury and losses, which is known as "causation." However, insurance companies will look for any reason to claim your injury wasn't caused by the defendant's negligence. For instance, if you had a back problem in the past that was corrected with surgery and is no longer an issue, they will likely still claim that your pre-existing condition is why your back hurts – even if you fell flat on your back due to a spill at a retail store. Your lawyer will go head-to-head with the other side's insurance company, fiercely negotiating for you and speaking to doctors and medical experts when necessary.
The last thing the plaintiff must prove is that actual harm (physical, financial, and/or emotional) resulted from the property owner's negligence. If all of the above requirements are met, a person can be eligible for compensation. However, getting to that point can be a long and complicated process, so it's best to hire a South Carolina slip-and-fall lawyer to represent you.
If you have suffered a slip-and-fall injury due to a property owner's negligence, please contact the experienced slip and fall accident lawyers in South Carolina at McWhirter, Bellinger, & Associates, P.A., today for a free initial consultation. South Carolina law puts strict deadlines on filing cases related to your injury. If you wait, it may be too late!
With offices in Aiken, Camden, Columbia, Lexington, Newberry, Orangeburg, and Sumter, South Carolina, our personal injury lawyers are ready to serve you.
For immediate help, call today at 888-353-5513.