Slip-and-Fall Attorneys in South Carolina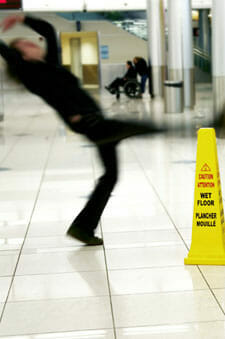 When a person purchases property, especially for the sake of doing business, he or she undertakes certain responsibilities. Among them is keeping the property in reasonably safe condition for those who are permitted or invited to be there. The total of these responsibilities is known as premises liability.
Unfortunately, many times property owners fail to put in the time or resources necessary to maintain the property, leading to spinal injuries and other injuries suffered by people who have come to the property to conduct business or merely pass through. The most common form of injury suffered as a result of fault maintenance is slip-and-fall injuries. Unfortunately, insurance companies, looking after their own bottom line, also try to cut corners by denying many slip-and-fall injury claims. To make sure you receive just compensation for your injury, you need a lawyer.
At McWhirter, Bellinger, & Associates, P.A., our slip-and-fall attorneys in South Carolina know that the cost of your injury can be very high, including:
Medical expenses, both actual and projected for:

Hospitalization
Surgery
In-home care
Physical therapy
Occupational therapy

Lost wages and/or vocational training if your injury prevents your return to your previous job
Pain and suffering
We are prepared to actively pursue your case until we achieve the full measure of compensation to which you are entitled.
What To Do if You Fall in a Store
We have all heard horror stories about someone slipping and falling on water, ice, grapes, a banana peel, and various other things while shopping in a store. Many people believe that if you fall on someone else's property that the property owner is automatically liable for any damages that are suffered as a result of the fall. However, in South Carolina this is not the case. In order to recover for your injuries you must prove that the store is liable for your damages in order to have a compensable case. Generally, if you fall in a store you must show one of two things in order to prove liability on the part of the store. First, you can prove that the store or one its employees created an unreasonably dangerous situation that caused the fall and resulting injuries. Or second, you can show that someone else created a dangerous situation that the store knew or should have known about but failed to fix within a reasonable time. With this in mind, here are a few tips to keep in mind if you or a loved one slips and falls in a store.
First and foremost, if you need medical attention, seek it immediately.
Report your fall to an employee of the store and make sure the incident is documented.
Do your best to determine what caused you to fall.
If possible get pictures of the scene so that you can accurately document how it looked at the time of incident.
Talk to a store employee about filing a claim for your injuries.
If you have suffered a slip-and-fall injury as a result of negligent maintenance by a property owner, please contact the experienced slip-and-fall lawyers in South Carolina at McWhirter, Bellinger, & Associates, P.A., today for a free initial consultation. South Carolina law puts strict deadlines on filing cases related to your injury. If you wait, it may be too late!
With offices in Aiken, Camden, Columbia, Lexington, Newberry, Orangeburg, and Sumter, South Carolina, our personal injury lawyers are ready to serve you.
For immediate help, call today at 888-353-5513.