Toyota 4Runner Rust Class-Action Lawsuit
The attorneys at McWhirter, Bellinger & Associates are reviewing claims for a class-action lawsuit regarding rusting of the frames and undercarriages on 2003-2009 Toyota 4Runners. This defect can create major driving hazards, compromising the safety of vehicle owners and passengers, as well as other drivers on the road.
If you own a 2003-2009 Toyota 4Runner, it is imperative that you inspect your vehicle to determine whether it has premature rusting, which could contribute to dangerous driving conditions. If your vehicle has experienced premature rusting, you may be eligible to join this class-action lawsuit and receive significant compensation.
How to Inspect Your 4Runner for Rust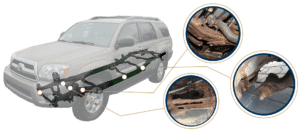 The primary areas of concern are located on the frame of the 4Runner underneath the SUV.  You will be looking for signs of rust or corrosion along the frame running down the sides of the vehicle and under the engine.
Inspection by a Mechanic

 – You can take your car to a mechanic for a more professional inspection, but for our initial purposes, you can probably do this yourself. 

Visual Inspection

 – You might be able to see signs of rust by just looking underneath the vehicle. Make sure the engine is off, and your 4Runner is in Park.

Use the Camera on Your Phone

 – The safest way to view these areas might be to put your smartphone in selfie mode and take a video of the underneath of your 4Runner. Make sure you go all the way around the vehicle covering as much area as possible with your video. Keep the phone close to the ground, so you get clear, in-focus images. Again, make sure the engine is off, and your 4Runner is in Park.
If you see any rust, regardless of how large or small the area is, take a photo and have it available to send to us.
What kinds of problems are associated with rusted frames?
The premature rusting of Toyota 4Runner frames, caused by improper treatment and coating of the frame during manufacturing, can lead to potentially serious issues with the vehicle, such as:
Wheel Alignment Problems

Vehicle Shaking

Unusual Noises

Suspension Wear

Breakage of Suspension Components

Breakage of Engine Mounts

Breakage of Body Mounts 
The problems above can lead to serious and potentially fatal car accidents. It is believed that Toyota ignored the owner's concerns and failed to warn consumers about the problem or offer a solution. 
Have similar class-action lawsuits taken place against Toyota?
Yes. A similar class-action lawsuit regarding premature frame rusting of Toyota Tacomas (2005-2010), Toyota Sequoias (2005-2008), and Toyota Tundras (2007-2008) was settled in 2020. The settlement was for approximately $3.4 billion in benefits to the class. 
How do I join the class action lawsuit?
McWhirter, Bellinger & Associates is reviewing claims related to the class-action lawsuit. We have more than four decades of experience working with class-action suits and fighting for victims of defective products. We believe in providing a voice for consumers who purchase products that have the potential to seriously harm them, and we would love to speak with you if you believe your Toyota 4Runner has premature rusting of the frame. 
Give us a call at 803-500-3976 today to receive a free case evaluation and determine your eligibility for this class-action lawsuit. We encourage you to act now, as the lawsuit is progressing quickly.