18-Wheeler Crashes With Family Vehicles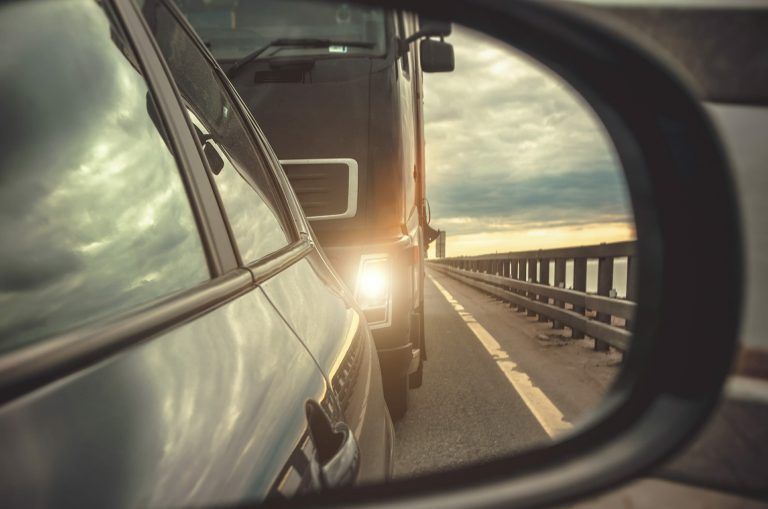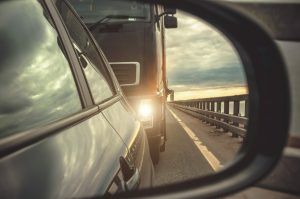 We've all seen 18-Wheeler trucks bearing down on us in our rearview mirrors.  They can be more than 70 feet long, and when fully loaded, they can weigh up to 80,000 pounds.  Occupants of passenger vehicles are vulnerable when they're near semi-trailers, and the overwhelming number of deaths in crashes involving 18-Wheeler crashes are those passenger vehicle occupants.
The Numbers
The physics involved in a tractor-trailer crash with a passenger vehicle are simple.  The semi-trailer weighs at least 20 times more than the passenger vehicle.  According to the Insurance Institute for Highway Safety, on dry pavement, a fully loaded semi-trailer is going to take 20-40 percent more road to come to a complete stop than a passenger car.  Even more distance will be needed if the roadway is wet or icy.  As per the most recent ascertainable statistics from the National Highway Transportation Safety Administration, there were 4,317 fatalities in crashes involving large trucks in 2016.  An estimated 120,000 others were injured.  In the context of fatalities, 72 percent of them were occupants of other vehicles.  Only 17 percent of them were truck occupants, and 11 percent weren't occupying any type of vehicle.  These numbers represent a five percent increase over prior years.
Common Causes of Tractor-Trailer Crashes
Given the tragic statistics, it's important to be aware of the common causes of accidents involving 18-Wheelers.  On a national basis, here are five of them:
Drowsy Driving.  Truck drivers are expected to meet strict schedules and delivery deadlines that are set by their employers.  That's why the Federal Motor Carrier Administration only allows truck drivers to be behind the wheel for 11 hours a day.  Beyond that, driver fatigue can cause accidents.
Poorly Maintained Trucks.  All critical components of a semi-trailer must be properly maintained, especially its lights, reflectors, tires and brakes.  Both trucking companies and drivers are required to perform periodic inspections on their trucks.
Improper Loading.  A poorly balanced load can cause a truck to jackknife or even roll over.  Not only does the improper loading of cargo pose a danger to the driver of the truck, but an out of control semi-trailer can also act as a giant street sweeper on a roadway.  Anybody in the zone of danger is at great peril.
Inexperienced or Unqualified Drivers. Semi-trailer drivers are in high demand right now.  There just aren't enough of them to satisfy the industry.  Trucking companies might negligently hire inexperienced or unqualified drivers in their efforts to keep cargo moving.
Driving Under the Influence.  A driver of a semi-trailer is presumed legally intoxicated with a blood alcohol level of .04.  That's half of the legal limit for other drivers.  A driver can be charged with driving while impaired, even if he or she has consumed over-the-counter or prescription medication.
The Statement
Truck insurance companies know that they're in for big exposure when a Semi Truck crashes into a passenger car.  They do everything that they can do to try and shift all or some of the liability for an accident onto the passenger car driver.  Don't be surprised if an adjuster from the opposing insurance company contacts you a few days after your accident and asks you to give a recorded statement.  Politely refuse to give any type of a statement.  The law doesn't require you to give one, and the insurer only plans on using your own words against you in the future in effort to attack your credibility when trying to devalue your claim.
After being hit by an 18-Wheeler, you might be lucky enough to live through the crash, but the injuries that you suffer can be permanent and debilitating.  An 80,000-pound semi-trailer can pulverize a passenger vehicle.  Some of the more common injuries suffered in these types of crashes are traumatic brain and spinal cord injuries, multiple fractures requiring surgery, organ damage and back injuries.  Experienced truck-wreck lawyers are well aware of the pain and disability that victims endure.  You'll want to contact an experienced, respected and effective truck accident lawyer right away after being injured in any truck crash.
The lawyers at McWhirter, Bellinger & Associates are nationally recognized as some of the leading truck-wreck attorneys in the country.  Shareholder and attorney, Melissa Mosier, has spoken at several national trucking litigation conferences.  Ms. Mosier and attorney Lisa McPherson recently won a $17 Million verdict in a truck-wreck case.  If you or a loved one has been injured in a wreck with an 18-Wheeler, call McWhirter, Bellinger & Associates at 888-353-5513.  It won't cost you anything to see if we can help.®
With offices in Aiken, Camden, Columbia, Lexington, Newberry, Orangeburg, and Sumter, we are here when you need us.