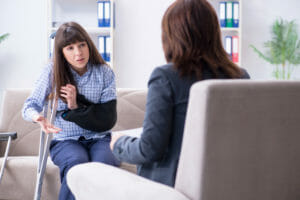 If you've been injured in a serious accident in South Carolina, you might be wondering whether you should hire a personal injury attorney to represent you. Doing so is highly recommended, as it can lead to a far better outcome when it comes time to settle your case or go to trial. Here are five top reasons to hire McWhirter, Bellinger & Associates as your personal injury lawyer.
Knowledge is power
Our experienced South Carolina personal injury attorneys know the law and have a strong track record of representing clients in the exact same situation as you. They know what to expect from the other side, and they know all the tactics of insurance companies whose goal is to pay as little as possible.
Our experienced lawyers will consider every angle of your case, including the possibility of future medical bills and other long-lasting consequences of your accident. They won't settle your case for a low-ball amount offered by the other side. Instead, they will fiercely fight for you, doing everything they can to make sure you receive the compensation you are rightfully owed.
Remember – the other side will have their own lawyer, so it's important to level the playing field by hiring your own skilled attorney to fight in your corner.
Focus on your recovery 
Personal injury claims come with a lot of paperwork and red tape, all of which can be very confusing and stressful for someone who isn't an experienced attorney. The process is also time-consuming, and takes away from what really matters – focusing on your recovery. If you've been seriously hurt, the most important thing you can do is take care of yourself both physically and emotionally. Hiring a lawyer from McWhirter, Bellinger & Associates means that someone else will take care of the necessary hassles, from requesting your medical records to reviewing police records, to communicating back and forth with insurance adjusters. What may seem overwhelming to you is second nature to our experienced South Carolina personal injury lawyers.
Avoid missteps
When it comes to dealing with insurance companies, a single misstep can cost you. Even the smallest things – like the way you answer a question or phrase a sentence – can be used against you. For instance, telling an insurance company you're "doing fine" following an accident could lead them to claim you aren't seriously injured. Insurance companies use tactics which are aimed at confusing people and pressuring them to accept an unsatisfactory amount of money. An experienced McWhirter, Bellinger & Associates personal injury attorney can protect you from those pitfalls.
Objectivity is important
Being the victim of a serious accident is a traumatic and extremely emotional experience, which means that most people aren't in the best state of mind when it comes to filing a claim. Making decisions that are in your best interest are vital to any claim, and a lawyer offers the objectivity needed to do that. Our South Carolina personal injury lawyers are able to look at all the information, building the strongest case possible on the basis of facts – not emotion.
Trials are not for amateurs 
If a case doesn't get settled outside of court, then it's time to go to trial. There aren't enough legal dramas on TV to prepare you for a real-life courtroom situation. The process is highly stressful and nerve-racking for plaintiffs and defendants alike, which is why hiring a lawyer is vital. The odds of winning when you represent yourself against the other side's attorney are extremely low. In addition to this, presenting a case to a jury is a skill that is learned and honed through experience. Only a personal injury lawyer will know how to do that in the best way possible.
Call McWhirter, Bellinger & Associates today
The personal injury attorneys at McWhirter, Bellinger & Associates are skilled professionals who know the ins and outs of South Carolina law. We have a strong track record of going up against insurance companies and doing everything we can for our clients. We approach every case with empathy and compassion, because we understand the emotional, financial, and physical consequences that accident victims encounter. We have offices across the Midlands of South Carolina, in Aiken,  Camden, Columbia, Lexington, Newberry, Orangeburg, and Sumter.
Give us a call today at 803-768-3447 for a free case evaluation. It won't cost you anything to see if we can help.®