The Fourth of July is consistently one of the most dangerous holidays for drunk driving accidents and the most deadly holiday with more fatal accidents than New Year's Eve.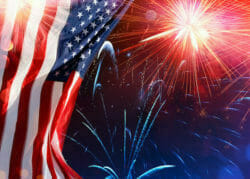 According to statistics compiled by the Insurance Institute for Highway Safety, in the last five years of available data (2010-2014), July 4th saw 118 deaths per day on average. More than half of the car accidents occurring during Fourth of July weekend are alcohol related.
You can do your part this Fourth of July to keep the roads safer:
Don't get behind the wheel if you have been drinking.
Designate a sober driver before you start drinking.
Plan to stay over with the friends or family who are hosting the Fourth of July gathering.
Program a taxi number into your phone or download a ride service app so a sober ride is at your fingertips.
If you have been injured in an accident involving a drunk driving, please call McWhirter, Bellinger & Associates today at 888-353-5513 for your free case evaluation.
You do not deserve to deal with the pain, losses, and burdens of an accident that was caused by a careless and intoxicated driver.
Our experienced attorneys serve the entire state of South Carolina. It won't cost you anything to see if we can help.