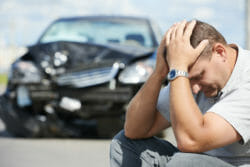 Labor Day is a little more than a week away, and many individuals in the Columbia area will embark on a road trip over the long weekend. However, it is important to drive safely and alertly due to the large increase in auto accidents occurring on our nation's roads this year. In fact, the National Safety Council (NSC) predicts approximately 438 people will be killed in car accidents over Labor Day weekend. This is the highest number of fatalities predicted since 2008.
This estimate reflects a trend that has been occurring over the past two years. According to the NSC, fatal motor vehicle accidents between January and June 2016 increased 9% compared to the totals from the same time period last year. This figure also represents an 18% increase from the totals between January and June 2014.
The NSC has identified several factors impacting this increase in car accidents over the past few years. In general more people are driving, especially during holiday weekends, due to:
Lower gas prices
Lower unemployment rates
A stronger economy
In addition, the NSC has found that distracted driving is becoming more prevalent, especially among teenagers. A survey of more than 1,000 drivers between the ages of 15 and 17 found that:
35% of teenage drivers use social media while driving
21% video chat while driving
43% text and drive
"People are very willing to engage with social media when they are behind the wheel," said Deborah Hershman, CEO of the NSC. "People have a lot of selfies that you can tell that they are in a car when they are taking those. We know that people are using Facebook, Snapchat and Twitter when they are behind the wheel."
The attorneys at McWhirter, Bellinger & Associates encourage you to take the proper precautions to avoid an auto accident over Labor Day weekend. Make sure you don't use your cell phone while driving. In addition, be on the lookout for erratic behavior from other drivers which may indicate that they are either intoxicated or distracted.
If you are injured in a car accident caused by the negligence of another driver, you may be entitled to compensation for your damages. At McWhirter, Bellinger & Associates, we've been fighting for the rights of accident victims in the Columbia area for more than 40 years. We'll stand by your side every step of the way to ensure you recover the compensation you deserve.
Please contact McWhirter, Bellinger & Associates using the form on this page or call (888) 353-5513 today to schedule your free auto accident consultation. We serve clients in Columbia, Sumter, Lexington, Newberry, Orangeburg, Aiken and throughout South Carolina.