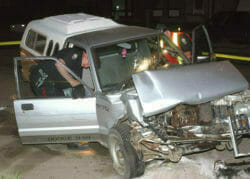 Uber temporarily suspended their self-driving car pilot programs over the weekend after one of the vehicles was involved in a car accident while operating in self-driving mode on Friday night. The self-driving SUV flipped onto its side during the accident. Police officers at the scene indicated that the Uber vehicle did not cause the accident. In fact, the other vehicle involved in the collision received a moving violation citation.
This afternoon, Uber resumed all of their self-driving car test programs after conducting an investigation into the incident. Currently, they are testing self-driving cars in three cities across the United States.
Autonomous vehicle technology has made tremendous strides in recent years, and it's possible that these vehicles will represent the wave of the future in terms of driving technology. If our streets eventually become populated with a large number of self-driving vehicles, it will present new challenges in terms of assigning and proving liability in the event of a car accident.
If you've been injured in a car accident caused by the negligence of another, you may be entitled to recover compensation for your damages. The attorneys at McWhirter, Bellinger & Associates have been fighting for the rights of car accident victims in Columbia and throughout South Carolina for over 40 years, and we'll stand by your side every step of the way to help you through this difficult time.
Please contact McWhirter, Bellinger & Associates using the form on this page or call 888-353-5513 today to schedule your free car accident consultation. We serve clients throughout South Carolina from our offices in Columbia, Lexington, Orangeburg, Sumter, Camden, Newberry and Aiken.