Jacque Br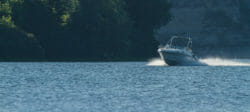 acewell Jr. and several others were enjoying a night out on Lake Moultrie around 7:30 on Saturday, July 23rd, when their night quickly turned deadly. Bracewell's 35-foot Contender was 3 miles out from Short Stay boat landing when it hit a wave and made a sharp turn. Several people were thrown overboard, to law enforcement's knowledge no one on the boat was wearing a life jacket.
Berkeley County Rescuers and Department of Natural Resources Dive Team were able to recover two bodies on Monday, July 25th, who had been missing since Saturday night. The two men were aged 47 and 51.
The U.S. Coast Guard reports more than 8,600 boat crashes occur each year, leaving approximately 900 people dead and almost 4,500 injured. Click here for more information on boating accidents.
If you or a loved one had been the victim of a boating accident anywhere in South Carolina, contact McWhirter, Bellinger & Associates, P.A. today at 803-353-5513 for a free case evaluation. With more than 40 years' experience helping accident victims in South Carolina, our boating accident attorneys know how to fight for you. We have offices in Aiken, Camden, Columbia, Lexington, Newberry, Orangeburg, and Sumter, South Carolina.