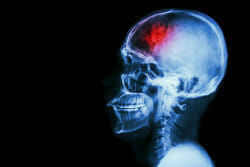 This March, take the time to remind victims of
brain injury
that they are
not alone
. March is National Brain Injury Awareness month, and the theme designated by the Brain Injury Association of America is "not alone."
More than 5 million Americans live with disabilities caused by brain injury, and about 2.4 million people sustain a traumatic brain injury each year in the US. During brain injury awareness month, here are some ideas for how you can take action:
Retweet informative Twitter posts hashtagged #notaloneinbraininjury
Tweet your own support with #notaloneinbraininjury
Visit www.biausa.org/brain-injury-awareness-month.htm to download, print and distribute, or to share online various awareness flyers
Visit the CDC's head injury website, www.cdc.gov/HEADSUP/ to learn more about recognizing and responding to brain injury, and to access numerous other related resources provided by the CDC
At McWhirter, Bellinger & Associates our injury lawyers have seen first-hand how devastating a traumatic brain injury can be, not only for the victim, but also for the victim's family and loved ones. In many cases we have been able to achieve successful verdicts and settlements on behalf of people who have suffered brain injuries because of someone else's negligence. We are proud to fight aggressively for the individuals and families these serious injuries have affected.
For a free case evaluation, please call us at (888) 353-5513. Our experienced and compassionate South Carolina injury lawyers serve Camden, Sumter, Lexington, Orangeburg, Columbia, Aiken and the entire state.