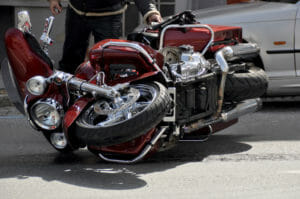 A South Carolina man has been charged with felony DUI after crashing his car into a motorcycle in York County, killing the passenger of the motorcycle.
The driver of the car, 68-year-old Robert Ormand of Heath Springs, was arrested on charges of DUI causing death, DUI causing great bodily injury, and two drug charges, according to the South Carolina Highway Patrol and York County Sheriff's Office jail records.
The collision occurred just outside the Rock Hill city limits when Ormand's car slammed into a motorcycle stopped at a traffic light. The passenger of the motorcycle, 37-year-old Amanda Wilson, died at the scene. Her husband, who was driving the motorcycle, was injured in the accident.
Two additional motorcycles and a truck which were stopped in front of Wilson's motorcycle at the traffic light were also involved in the accident, after the initial collision caused a chain reaction.
Ormand was arrested on the charges after receiving medical treatment. He was denied bond earlier this month and remains in the York County Jail.
DUI with death carries a maximum sentence of up to 25 years in prison, while DUI causing great bodily injury carries up to 15 years.
Sadly, fatalities happen on South Carolina roads far too often. In fact, Wilson's death marked the 18th fatality to take place on a highway in York County this year, according to the South Carolina Department of Public Safety.
When tragedy strikes and a loved one is killed in a motor vehicle accident, it can be overwhelming for families. Hiring a lawyer is usually the last thing on their minds as they grieve.
However, hiring an experienced South Carolina attorney is often the best decision a family can make following the death of a loved one. Only a qualified lawyer can thoroughly examine the details of the accident to determine if the family is eligible to receive compensation for the wrongful death of their loved one, as well as medical bills, funeral expenses, and more.
The lawyers at McWhirter, Bellinger & Associates understand the pain that family members go through after they lose a loved one to someone else's recklessness or negligence. We are compassionate attorneys who are committed to doing everything we can to make sure our clients receive the compensation they're rightfully owed.
If your loved one lost their life on a South Carolina road through no fault of their own, or if you've been seriously injured in a similar circumstance, the personal injury attorneys at McWhirter, Bellinger & Associates would love to give you a free case evaluation.
McWhirter, Bellinger & Associates has offices throughout South Carolina, in  Aiken, Camden, Columbia, Lexington, Newberry, Orangeburg, and Sumter. Give us a call today at 803-768-3447. It won't cost you anything to see if we can help.