Camden, Sumter, Lexington, Newberry, Orangeburg, Columbia, and Aiken, SC.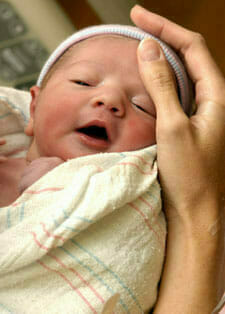 Birth injury or trauma can occur from complications during either pregnancy or delivery. Fortunately, most of the 2.7% of births that result in a birth injury in the United States are minor and only bring about some bruising. But because a newborn's nerves can easily be damaged and a newborn's bones are vulnerable to fractures, some birth injuries may result in lifelong developmental disabilities.
Cerebral palsy
Among the most debilitating birth injuries are those that affect the infant's brain. One such injury, which is actually a group of disorders that impair a victim's ability to control his body, is cerebral palsy. Cerebral palsy results in more medical malpractice lawsuits than any other birth injury. One reason for this is that non-genetically induced cerebral palsy is often preventable.
During delivery, doctors should be aware of the potential for birth asphyxia. This is insufficient oxygen and is the leading cause of non-genetically-induced cerebral palsy. If the medical staff does not properly conduct electronic fetal monitoring and other post-birth observations, or if the doctor fails to perform a C-section (cesarean section) to reduce the likelihood of birth asphyxia when indicated, a medical malpractice lawsuit may be warranted.
Other common preventable birth injuries
Fractured bones
Kernicterus
Asphyxia neonatorum
Brachial plexus palsy
Perinatal stroke
Skin problems
In addition to failing to perform a C-section when warranted, delaying a C-section can also lead to birth-injury complications. Other forms of malpractice that can lead to birth injuries include:
Miscalculating the position or size of the baby. The likelihood of injury increases when the fetus is too large (which can be the case if there is gestational diabetes) or when the birth canal is too small. A fetus that is not ideally positioned can result in a breech delivery (buttocks first).
Shoulder dystocia (the infant's shoulder becomes lodged in the mother's pelvis) as a result of mishandling the infant. This can stretch the infant's brachial plexus, which is a network of large nerves in the shoulder. It can potentially result in cerebral palsy, Erb's palsy, or Klumpke palsy.
Causing rupture of the uterus by using excessive force in the delivery.
Inducing labor too late.
Administering incorrect medication.
If you suspect that your newborn is the victim of an obstetrical error or medical negligence, you should consider consulting with one of our birth injury attorneys here at the Law Firm of McWhirter, Bellinger & Associates, P.A. We serve the entire area of South Carolina. You may be entitled to recover compensation for medical expenses, loss of income, and emotional distress. Give us a call or send us an email today. We'll arrange a free case evaluation for you.
With offices in Aiken, Camden, Columbia, Lexington, Newberry, Orangeburg, and Sumter, South Carolina, our birth injury attorneys in South Carolina are ready to serve you.
For immediate help, call today at 888-353-5513.
LOCATIONS
Columbia
(1807 Hampton Street Columbia, South Carolina 29201)
Sumter
(485 N. Lafayette Drive Sumter, South Carolina 29150)
Lexington
(119 East Main Street Lexington, South Carolina 29072)
Camden
(919 Broad Street Camden, South Carolina 29020)
Orangeburg
(104 Office Park Drive Orangeburg, South Carolina 29118)
Newberry
(2203 Wilson Road Newberry, South Carolina 29108)
Aiken
(231 Pendleton Street, NW Aiken, South Carolina 29801)