Columbia, Lexington, Orangeburg, Sumter, Camden, Newberry, and Aiken, SC.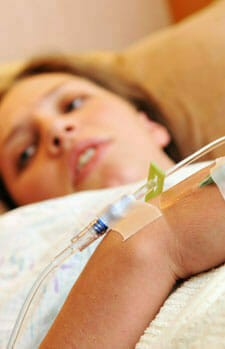 Mesothelioma is a form of cancer. It is a cancer of the membranes lining the chest or abdomen. It is most often the result of workplace exposure to asbestos, with about 70 to 80% of cases being linked to asbestos. Because diagnosis of mesothelioma is often made at a late stage of the disease, five-year survival rates are low compared to other cancers. If you have been diagnosed with mesothelioma, you may feel afraid and not know what to do.
The personal injury lawyers in South Carolina at McWhirter, Bellinger, & Associates, P.A., can help. We know that a mesothelioma lawsuit can help people make plans for their future if they survive mesothelioma and for their family if they do not. Contact us today to learn more about your rights and legal options.
Mesothelioma Diagnosis and Treatment
In its early stages, the symptoms of mesothelioma are not very specific and hard to pinpoint. They may include shortness of breath or difficulty breathing. These may be accompanied by pain in the chest or abdomen, and abdominal swelling. If you have these symptoms long enough and go to a doctor, your doctor may order a chest x-ray, which should give sufficient evidence for a doctor to diagnose mesothelioma or order more detailed tests like a CT scan or an MRI. However, it is not uncommon for the x-ray to be misread, leading to a delayed cancer diagnosis.
Once mesothelioma has been diagnosed, there are three treatment options, which may be used singly or in combination:
Surgery
Radiation therapy
Chemotherapy
There are other treatment options under investigation, including intraoperative photodynamic therapy, when the cancer cells are made more sensitive to light and exposed during surgery. Therapies designed to boost the body's immune system are also being tried.
No matter what treatment is used, though, the 5-year survival rate for mesothelioma is less than 10%.
Consult our Questions about Mesothelioma page to learn more about this disease.
Why File a Mesothelioma Lawsuit
If you are suffering from mesothelioma, the chances are it is the result of workplace exposure to asbestos. The dangers of asbestos have been known since the 1800s, but because asbestos was a relatively cheap material with useful properties, it was commonly used through the 1970s in many applications. Despite its known danger, many employers allowed their employees to work with asbestos with no or inadequate safety equipment. And many of these decisions were profit-driven.
Now you are facing long-term illness requiring expensive treatment. Your family is at risk of losing the emotional and financial support you provide. You want to provide for your family, and it is only right that those who risked your life for their profit be made to pay. This is the goal of a mesothelioma lawsuit.
If you have contracted mesothelioma and want to talk to a lawyer about a possible lawsuit, call or email the South Carolina personal injury lawyers of McWhirter, Bellinger, & Associates, P.A., today.
With offices in Aiken, Camden, Columbia, Lexington, Newberry, Orangeburg, and Sumter, South Carolina, our personal injury lawyers are ready to serve you.
For immediate help, call today at 888-353-5513.
LOCATIONS
Columbia
(1807 Hampton Street Columbia, South Carolina 29201)
Sumter
(485 N. Lafayette Drive Sumter, South Carolina 29150)
Lexington
(119 East Main Street Lexington, South Carolina 29072)
Camden
(919 Broad Street Camden, South Carolina 29020)
Orangeburg
(104 Office Park Drive Orangeburg, South Carolina 29118)
Newberry
(2203 Wilson Road Newberry, South Carolina 29108)
Aiken
(231 Pendleton Street, NW Aiken, South Carolina 29801)
I was extremely satisfied with my service with everyone. I truly appreciate everything the lawyers and staff have done for me. I will strongly recommend their service to others because they have done an outstanding job. Thank you so much