If you're an employee in the state of South Carolina, you've undoubtedly heard the term "workers' compensation" over and over again. But despite being aware of the concept, most employees are caught off guard when they get injured on the job and aren't sure if they even qualify to make a claim. Here are 14 important facts about workers' compensation in South Carolina, so you're prepared if you ever find yourself hurt at work.
Almost all South Carolina employers with four or more employees are required to carry workers' compensation insurance. If your employer fits that description, you'll probably be able to file a claim if you get hurt on the job. There are a few professions that might not be covered, but those situations are fairly rare.  If you have questions about your company's coverage, reach out to your supervisor or HR department for clarification.
Work-related injuries & illnesses are covered
Common workplace accidents such as slip-and-falls and fractures are covered under workers' compensation insurance, as well as illnesses caused by your duties at work. These can include repetitive injuries like carpal tunnel syndrome or chronic back problems or conditions such as heart problems, lung disease, or mesothelioma.
You have 90 days to report your injury
South Carolina gives you 90 days to report a workplace injury. However, you are advised to report it right away for a couple of reasons. First of all, reporting the injury immediately means you can begin the process sooner and receive benefits sooner. Secondly, if the injury is reported at a later date, employers are more likely to downplay it or claim you were injured elsewhere.
You have 2 years to file a workers' compensation claim
State law allows employees to file workers' compensation claims within two years of the injury. While this is good news for anyone who didn't act right away in the past, employees are otherwise advised to file claims immediately.
Family members can receive death benefits for loved ones injured on the job
If a person dies as a result of a workplace injury, that person's spouse, dependents, or parents (depending on circumstances) may be eligible to receive death benefits. These claims must be filed within two years of the death.
You have options if your employer ignores your injury
Although your employer should file a claim with the Workers' Compensation Commission on your behalf, some employers instead choose not to report it or to deny the injury. If this happens, there are certain actions that can be taken to make sure your rights and benefits are not violated.
You can file a claim even if the injury was your fault
South Carolina operates on a "no fault" workers' compensation system, which means the state does not require workers to prove that their employer was directly at fault for their injury. All they have to do is demonstrate that their injury occurred in the workplace or on the job.
Pre-existing conditions worsened by work are covered
Many employees fear they cannot file a workers' compensation claim if their injury is related to a pre-existing condition. This isn't the case. If a pre-existing condition was worsened due to a workplace accident or illness, then you have the right to file a claim.
You must go to a doctor approved by your employer or its insurance representative
It might seem as though any qualified doctor would be able to treat your injury or illness under workers' compensation insurance, but that isn't the case. For your treatment to be covered, you must abide by the rules laid out by your employer and/or their insurance representative. This means only going to physicians who are on their list of approved providers.
All necessary medical treatment is covered
South Carolina workers' compensation law allows for all necessary treatment that is likely to lessen your disability to be covered. This can include surgery, hospitalization, medical supplies, prosthetic devices, prescriptions, and more.
You can get reimbursed for travel expenses when you go to the doctor
If the round-trip distance to your doctor's appointment is more than 10 miles from your home, you can get reimbursed for mileage at the rate given to South Carolina state employees. The same rule applies to pharmacy trips.
You must accept "light duty" work

If your employer orders you to conduct "light duty" work following your workplace injury, you must accept that work. Refusal of that work could result in a loss of benefits. If you believe you do not have the capability to perform the work assigned to you, a Commission hearing can be requested.

Workers' Compensation benefits follow a formula
Workers are typically entitled to compensation at the rate of 66 ⅔ percent of their average weekly wage, based on the four quarters prior to the injury – but no more than the maximum average weekly wage determined each year by the state of South Carolina.
McWhirter, Bellinger & Associates can help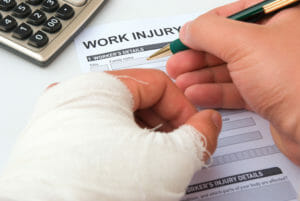 Hiring an experienced South Carolina workers' compensation lawyer to represent you is highly advised. A qualified attorney knows the law and knows how to fight against insurance companies who only care about keeping their costs down – not about your health. Insurance carriers are notorious for pressuring workers' compensation victims into settling for a low amount. Only a lawyer can help you recover the benefits you are truly owed.
The attorneys at McWhirter, Bellinger & Associates have been representing workers' compensation clients for over 40 years. We know the ins and outs of South Carolina workers' compensation law and how to go up against insurance companies. Our lawyers are committed to the cause, fighting to get every person fair compensation following their workplace injury or illness.
If you live in South Carolina and were injured on the job, we would love to hear your story and provide you with a free case evaluation. We have an office near you, with locations in Aiken, Camden, Columbia, Lexington, Newberry, Orangeburg, and Sumter.
Give McWhirter, Bellinger & Associates a call today at 803-373-7988. It won't cost you anything to see if we can help.®