Nursing home residents & staff account for 39% of South Carolina COVID-19 deaths.
As long-term care facilities across South Carolina continue to be hit hard by COVID-19, new data has revealed that residents and staff of those facilities account for 39 percent of coronavirus deaths.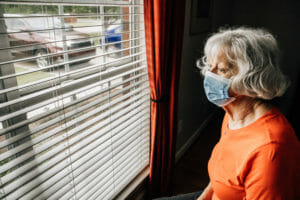 The data, released by the South Carolina Department of Health and Environmental Control (DHEC), cites 11,566 confirmed COVID-19 cases in nursing homes and assisted living facilities across the state. Of those, 7,459 were residents, and 4,107 were staff workers.
   representing a mortality rate of 21 percent. Twenty-six workers have also died. Together, those two groups account for 39 percent of coronavirus deaths in the state – despite representing only six percent of the state's total cases.
The newly released data also states that the virus was found in 414 of the 685 facilities monitored by the DHEC. There are currently active outbreaks in 136 of those facilities. 
Meanwhile, coronavirus shows no signs of slowing in South Carolina. The state has surpassed 211,000 confirmed cases, with a high percentage of daily tests returning positive. Of the 10,407 tests conducted for the DHEC's recent report, 13.2 percent came back positive.
These numbers are extremely worrying for residents of long-term care facilities, and their family members, particularly the elderly, are among those most likely to suffer serious symptoms or die from COVID-19. 
Adding to that worry is the unfortunate truth that many long-term care facilities could be doing a lot more to protect their vulnerable residents. Nursing homes and assisted living facilities across the state are falling short, with many failing to monitor residents and staff members for symptoms or refusing to properly sanitize the premises or restrict visitors. Others have been accused of failing to isolate potentially infected residents or refusing to provide staff with essential items like masks and gloves. The sad reality is that many elderly residents have been let down by the very facilities that vowed to take care of them. 
Many people across South Carolina and the rest of the country have already been forced to say goodbye to a loved one whose long-term care facility failed to provide them with proper protection against COVID-19. If your loved one has passed away due to the carelessness or negligence of the nursing home or assisted living facility that you trusted to care for them, you could be entitled to compensation. 
The attorneys at McWhirter, Bellinger & Associates are compassionate, experienced, and ready to listen to your story. With offices in Aiken, Camden, Columbia, Lexington, Newberry, Orangeburg, and Sumter, we are here when you need us.
Call us at 803-768-3447 for a free case evaluation today. It won't cost you anything to see if we can help.