Settlement reached in class action firefighting foam lawsuit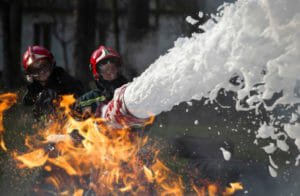 Tyco Fire Products has settled a class action lawsuit for $17.5 million for PFAS contamination caused by firefighting foam. The company, which is known for mixing and testing foam containing "forever chemicals," submitted the settlement to a South Carolina judge.
The settlement includes people from 271 households who lived in Peshtigo, Wisconsin, between January 1, 1965 and December 31, 2020, and had a private well on their property, according to court documents cited by the Milwaukee Journal Sentinel.
Of the $17.5 million, a total of $15 million will be allocated for class-wide claims such as property damage, while $2.5 million will be allocated for those who have been diagnosed with testicular cancer, kidney cancer, ulcerative colitis, thyroid disease, and preeclampsia.
Residents will receive anywhere between $60,000 and $70,000 per property, depending on the level of contamination, according to the attorney representing the plaintiffs.
Those determinations will be made by a special appointee of Judge Richard B. Gergel, who is presiding over cases nationwide involving polyfluoroalkyl substances (PFAS) and aqueous film forming firefighting foam (AFFF). The Peshtigo case is the first AFFF case to be settled.
PFAS have been found across the state of Wisconsin, with Peshtigo being one of the worst contamination sites. That contamination originated in the area around a Tyco Fire Products testing facility which was used to test firefighting foam for many years.
The Wisconsin Department of Natural Resources has also referred Tyco/Johnson Controls to the state Department of Justice, alleging the company waited four years to report the release of hazardous chemicals from its plant in Marinette, Wisconsin.
The PFAS found in firefighting foam are believed to cause cancer through direct use of AFFF, and through contaminated groundwater. The American Cancer Society has acknowledged studies which suggest a link between PFAS and cancer.
Patients who have been diagnosed with cancer after coming into contact with AFFF could be entitled to compensation including medical bills, pain and suffering, disability or permanent injury, lost wages/loss of earning capacity, punitive damages, rehabilitation costs, and wrongful death.
McWhirter, Bellinger & Associates is aware of the health hazards associated with firefighting foam. If you or a loved one have been diagnosed with cancer following exposure to AFFF, our attorneys would love to hear your story.
With law offices in Aiken, Camden, Columbia, Lexington, Newberry, Orangeburg, and Sumter, our lawyers are dedicated to helping people across the state of South Carolina who have been adversely affected by AFFF. We are experienced and work hard to help our clients receive what they are rightfully owed.
Contact us today at (803) 590-9203. It won't cost you anything to see if we can help.