Winning and losing are part of any sport, but River Bluff High School football coaches allegedly refused to acknowledge that fact when they held a "punishment" practice for their team after a poor performance. A 14-year-old player died shortly after, in a case that made headlines and infuriated parents across the Palmetto State. His family filed a wrongful death lawsuit, and a confidential settlement has now been reached.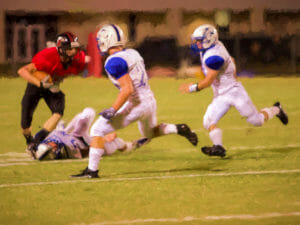 The lawsuit states that after performing poorly during a scrimmage the previous day, Lewis Simpkins and his teammates were subjected to a two-hour and 15-minute full-pads practice, which consisted of sprints and strenuous exercises including "gassers" and "up-downs." The heat index on that August day in Lexington, SC, was 95 degrees, and Simpkins' teammates said it was the "hardest practice they ever had."
Simpkins – a 6'2" defensive tackle weighing 270 pounds – was visibly struggling during the practice and was "behind everyone," the lawsuit states, according to local media. Still, coaches yelled for the players to continue despite seeing obvious signs of struggle.
"Lewis had trouble getting up and could barely lift his feet," the lawsuit reads. "After several of these ['up-downs'], Lewis leaned on one knee and ultimately could not get up. Coaches yelled for the players to get up and keep going. Lewis did one more 'up-down' and then rolled over and again could not get up. Lewis was gasping for air."
The 14-year-old collapsed in the locker room just after practice. He was taken to a nearby hospital, where he was pronounced dead on arrival. The Lexington County coroner stated that he died from a pair of pre-existing heart conditions that were exacerbated by the heat and humidity that afternoon.
Now, more than four years after Simpkins passed away, an undisclosed settlement has been reached in the wrongful death case filed by his parents in 2018, in which they accused education officials of failing to adopt and enforce policies to protect student-athletes training in extreme conditions.
Defined as a death that was caused by someone else's carelessness or negligence, wrongful death cases happen far more often than they should. Although taking legal action following the tragic death of a loved one can take an emotional toll on the family, it is important to do so in order to make sure you receive compensation for financial losses, emotional suffering, and other consequences caused by the death.
The attorneys at McWhirter, Bellinger & Associates have been compassionately fighting for families impacted by wrongful death cases for decades. We work tirelessly on the behalf of those who have been forced to say goodbye to their loved ones far too soon.
If you've experienced the death of a loved one, which you believe was caused by someone else's actions, our attorneys would like to hear more about your situation and give you a free case evaluation. There is a time limit for wrongful death cases in South Carolina – so the sooner you reach out to us, the more time we will have to prepare a strong case on your behalf.
Call us at 803-768-3447 for a free case evaluation today.
With offices in Aiken, Camden, Columbia, Lexington, Newberry, Orangeburg, and Sumter, we are here when you need us.