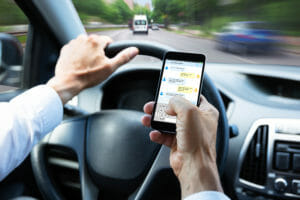 Technology has undeniably made our lives easier, but it can also put our lives in danger. Drivers across South Carolina often become distracted by their phones, contributing to 20,000 collisions each year.
Distracted driving can come in many forms, with texting and other cell phone usage being some of the most common. That's extremely worrying, since the National Highway Traffic Safety Administration (NHTSA) says that texting and driving is six times more dangerous than driving drunk.
Although there is a ban against texting and driving in South Carolina, drivers don't always obey the law. Even drivers who do respect the texting and driving law often still find themselves distracted by talking on the phone, putting a destination into the GPS, putting on make-up, talking to passengers in the car, or any number of other reasons.
The statistics speak for themselves. South Carolina averages two crashes every hour involving a distracted driver, according to the South Carolina Department of Public Safety (SCDPS). Drivers who were distracted or inattentive because they were using their cell phone are listed as a top contributing factor in more than 20,000 accidents across the state each year.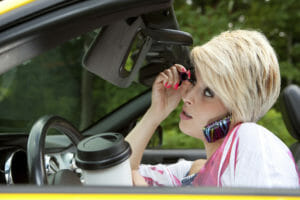 Drivers are 90% more likely to have an accident when driving distracted. And although distracted driving cases happen throughout the country, South Carolina ties for the 7th worst drivers in the nation. Our state was also #1 in the US for fatalities per 100 million vehicle miles traveled in 2019.
What many people may not realize is that distracted driving is a form of negligence, and can result in serious and even fatal injuries. When an innocent person falls victim to someone else's negligence on the road, they have the right to seek compensation. They are often eligible to receive damages for current and future medical expenses, lost wages, loss of enjoyment of life, disfigurement and scarring, pain and suffering, and punitive damages.
Hiring a qualified personal injury attorney after a South Carolina car accident is vital, as they know how to properly navigate the confusing and complex legal system. Lawyers are also experienced at going up against insurance companies that are trained to do everything they can to avoid paying out a fair sum.
McWhirter, Bellinger & Associates has offices throughout the state of South Carolina, in Aiken, Camden, Columbia, Lexington, Newberry, Orangeburg, and Sumter. We've been fighting for South Carolina auto accident victims for more than 40 years, and our attorneys work hard to recover compensation for victims of distracted driving accidents.
If you've been injured due to another person's distracted driving, give McWhirter, Bellinger & Associates a call at 803-768-3447. We'll listen to your story and give you a free, no obligation case evaluation.