As per the most recent ascertainable numbers from the National Highway Transportation Safety Administration (NHTSA), 5,977 pedestrians across the nation died from injuries that they suffered in motor vehicle accidents in 2017.  More than 70,000 were estimated to be injured. In the context of fatalities, that was a nine percent increase from the prior year. The vast majority of those injuries and fatalities resulted from accidents with cars, trucks, motorcycles, and busses while the pedestrians were either crossing streets, walking along the sides of roads or even walking on sidewalks.
The Chances of a Fatality
In the event that they're hit by a motor vehicle, pedestrians are virtually unprotected. They don't have seat restraint systems or airbags. The only crumple zones that pedestrians have are their joints and bones. Those are no match for even a small car traveling at relatively low speed. Here's how the NHTSA reports vehicle speed and the chances of a fatality upon hitting a pedestrian:
At 20 mph, there's a 10 percent chance of a fatality.
At 30 mph, the chances of a fatality increase to 50 percent.
At 40 mph, there's only a 10 percent chance that the pedestrian will survive.
Common Causes of Pedestrian Accidents
Most pedestrian accidents are the result of drivers who either don't see the pedestrian or don't see him or her until it's too late. Some of the most common causes of these types of accidents are:
Distracted driving like talking on a cellphone, texting or inputting data into an infotainment center.
Speeding or driving too fast for traffic or weather conditions.
Glare from the sun or the lights of oncoming vehicles.
Failure to yield the right of way when turning.
Driving under the influence of alcohol, drugs or both.
Common Pedestrian Accident Injuries
Given the vulnerability of pedestrians, the injuries that they suffer from being hit by a motor vehicle can be devastatingly permanent or fatal. Those injuries include traumatic brain injuries, traumatic spinal cord injuries, multiple fractures, organ damage, facial and dental fractures, dislocations and abrasions with secondary infection.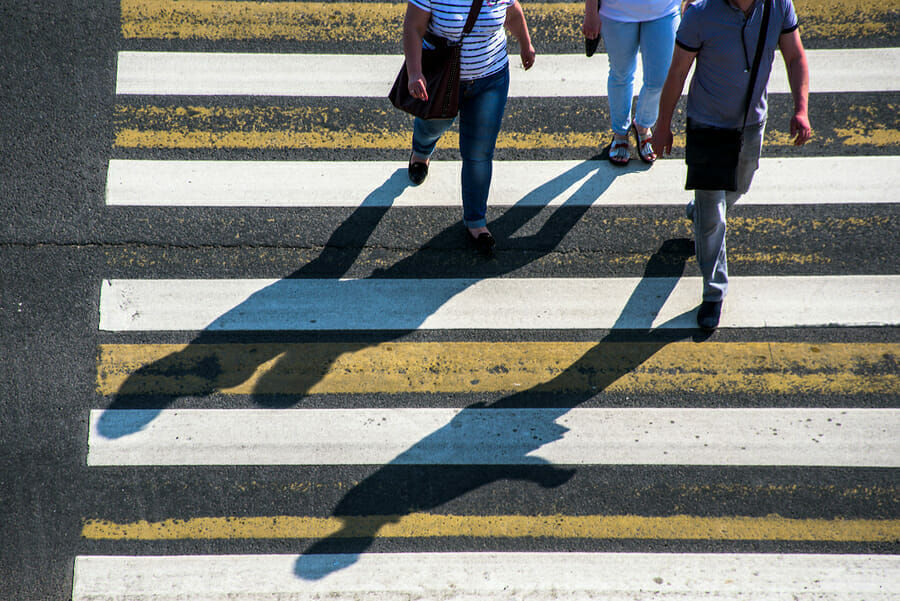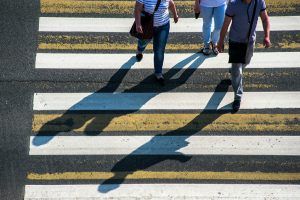 How Is Fault Determined in a Pedestrian Accident?
The driver of a motor vehicle isn't always at fault in an accident with a pedestrian. A pedestrian might be partially or fully at fault. Depending on what state the accident occurred in, any percentage of fault attributable to the pedestrian operates to diminish the value of his or her claim. Although not set in stone, here are some guidelines to keep in mind in the event that you or a member of your family is a victim of a pedestrian accident:
Unless they step out directly in front of a moving car, pedestrians generally have the right-of-way in a crosswalk.
It's against the law to jaywalk and cross a street in the middle of a block, but that might not bar a pedestrian from seeking compensation for damages.
The duty of a driver to operate a vehicle in a safe and careful manner increases when children are present, especially young children.
Pedestrian accident cases can become complicated very quickly. Expect the opposing insurer to raise allegations of your comparative fault as a defense.  Never give any kind of a statement to an opposing insurance company without having an attorney present on your behalf. The insurance company will only try to use your own words against you in attempting to devalue your claim and attack your credibility. In order to protect and invoke your rights, you should contact a respected, experienced and effective personal injury lawyer as soon as possible after your accident. McWhirter, Bellinger and Associates, P.A., offers free consultations and case evaluations and handles these types of cases on a contingency fee basis. That means no legal fees will ever be due unless a settlement or verdict is obtained on your behalf.
With offices in Aiken, Camden, Columbia, Lexington, Newberry, Orangeburg, and Sumter, we are here when you need us.