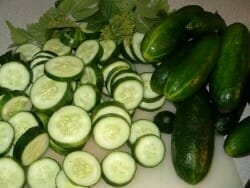 Earlier this month, the food companies Custom Produce Sales and Andrews & Williamson Fresh Produce both recalled cucumbers infected with salmonella. The salmonella outbreak has caused 558 infections, 112 hospitalizations, and three deaths, at the last count. This has led to a large number of defective product lawsuits against the companies.
The difficult part of pursuing a defective product lawsuit for a salmonella infection is the timing. Salmonella poisoning typically lasts four to seven days, so it's important that you visit a doctor and get your diagnosis confirmed within that time frame. Let the doctor know that you want to be tested for salmonella. The results may not get back by the time the disease goes away, but you will have medical records to show you contracted the disease.
Symptoms of salmonella poisoning include:
abdominal cramps
fever
vomiting
diarrhea
blood in stool
Cucumbers with salmonella in them were sent out to most major grocery stores and several popular restaurants, including In-N-Out Burgers and Red Lobster. If you ate anything with cucumbers at either place, or if you bought and consumed cucumbers at your local grocery store and came down with food poisoning later, you may have grounds for a lawsuit.
Contact McWhirter, Bellinger & Associates for a free case review. We have the experience and legal resources to help you pursue your defective product lawsuit, and will fight to secure compensation for your injury. We serve clients in Columbia, Lexington, Camden, Orangeburg, and many other locations throughout South Carolina. Call us at 888-353-5513.