More than one million Americans per year (mostly women) are diagnosed with interstitial cystitis, a chronic condition that causes bladder pressure, bladder pain, and sometimes pelvic pain. Many patients are prescribed an oral prescription called Elmiron to help with the pain, but at a heavy cost.
Some patients have been left with lasting damage to their retinas caused by Elmiron. That damage is called pigmentary maculopathy, a degenerative eye condition that leads to pigmented deposits on the macula which resemble little specks.
The personal injury attorneys at McWhirter, Bellinger & Associates are currently reviewing potential lawsuits of pigmentary maculopathy caused by Elmiron.
What is Elmiron?
Elmiron was approved by the Federal Drug Administration (FDA) in 1996, and it remains the only FDA-approved medication designed for the relief of interstitial cystitis.
The FDA has acknowledged that "pigment changes in the retina in the eye have been reported with long-term use of Elmiron," adding that "continued long-term dosing may be a risk factor."
Still, Elmiron continues to be prescribed by doctors and filled by pharmacists on a regular basis.
How serious is pigmentary maculopathy?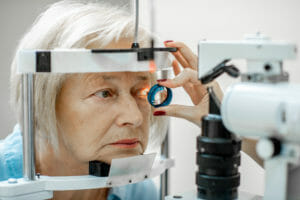 Vision is extremely important to our day-to-day lives, so any interruption to our eyesight is a very serious matter. Elmiron is the only known cause of pigmentary maculopathy, which leads to changes in the macula (the central part of the retina that allows us to have clear central vision). Pigmentary maculopathy is not believed to be reversible.
The FDA reported the following symptoms in patients who have taken Elmiron:
Difficulty reading
Slow adjustment to low or reduced light environments
Blurred vision
There are many types of maculopathy, all of which can progress to a person becoming legally blind. This can hinder day-to-day tasks such as driving and working, requiring patients to make major changes that can impact their quality of life.
A 2018 study by an assistant professor of ophthalmology at Emory University School of Medicine studied six patients who had been taking Elmiron for an average of 15 years.
All of the patients in the study had atypical changes in their macula and described decreased central visual acuity and difficulty reading in dim light. Upon further research, the study's authors concluded that there were no genetic or other known causes that might have led to those changes. They issued a warning that long-term use of the drug could potentially lead to retinal damage, and observed similar cases in a separate group of patients the following year.
These findings led Kaiser Permanente to conduct its own research, which found that 25% of study participants with significant exposure to Elmiron showed clear evidence of retinal damage.
Do you have a case?
If you have been diagnosed with pigmentary maculopathy after taking Elmiron for interstitial cystitis, you could be entitled to the following damages:
Medical bills
Pain and suffering
Disability or permanent injury
Lost wages/loss of earning capability
Punitive damages
The attorneys at McWhirter, Bellinger & Associates are dedicated to fighting for victims of dangerous drugs, and have a strong track record of winning. We do everything we can to make sure every client gets the compensation they deserve.
We have offices throughout South Carolina, in Aiken, Camden, Columbia, Lexington, Newberry, Orangeburg, and Sumter.