Paraquat, one of the most commonly used commercial herbicides in the United States, could be linked to Parkinson's disease. The attorneys at McWhirter, Bellinger & Associates are reviewing potential lawsuits from licensed paraquat applicators and others who have been diagnosed with the disease after paraquat exposure.
If you or a loved one have been diagnosed with Parkinson's disease after coming into close contact with paraquat, our South Carolina personal injury attorneys are interested in hearing your story.
What is paraquat?
Paraquat is a toxic chemical that is widely used as a herbicide, primarily for weed and grass control. The US Environmental Protection Agency (EPA) classifies it as "restricted use," meaning it can only be used by people who are licensed applicators.
The chemical is so toxic that each bottle comes with a warning that says "one sip can kill."  However, plaintiffs in lawsuits across the country are alleging that distributors of paraquat are well aware of its link to Parkinson's disease and have intentionally failed to warn consumers, conduct proper research, or ensure that consumers are adequately protected when using the chemical.
Some of the largest manufacturers of paraquat include Syngenta and Chevron Chemical. Although Syngenta is a Swiss company, the herbicide has been banned in that country since 1989. It is also banned in 31 other nations across the globe.
However, it continues to be used in the United States – and it's rising in popularity. The total amount of paraquat usage in the US doubled between 2006 and 2016, according to the National Water-Quality Assessment (NAWQA) Project.
Which weed killers contain paraquat?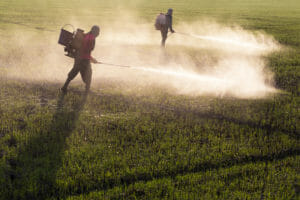 The most common herbicide containing paraquat in the US is Gramoxone SL 2.0 Herbicide, manufactured by Syngenta. However, it is also found in the following trade names:
Para-SHOT
Blanco
Devour
Firestorm
Helmquat
Ortho-Paraquat
Parazone
Quick-Quat
Is there a link between paraquat and Parkinson's disease?
Over the past two decades, the scientific community has stepped up its research of the effects of paraquat exposure on humans.
The chemical's compounds are believed to be toxic to mitochondria, the powerhouses of a cell, leading to the death of dopamine-producing neurons in the substantia nigra – a brain area specifically involved in Parkinson's disease.
Here are some study results:
One of the authors of the FASEB study said that "people exposed to these chemicals are at about a 250% higher risk of developing Parkinson's disease than the rest of the population."
What other dangers does paraquat pose?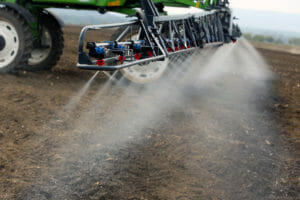 Paraquat poisoning can occur through inhalation, ingestion, or skin exposure. Once it hits the body, it causes toxic chemical reactions to occur in many places.
In addition to its possible connection to Parkinson's disease, the Centers for Disease Control and Prevention (CDC) says that small to medium amounts of paraquat may lead to development of the following:
Heart failure
Kidney failure
Liver failure
Lung scarring
Large amounts of paraquat can lead to the following symptoms within a few hours to a few days:
Acute kidney failure
Confusion
Coma
Fast heart rate
Injury to the heart
Liver failure
Lung scarring (fast acting)
Muscle weakness
Pulmonary edema
Respiratory failure
Seizures
The CDC has warned that "people with large ingestions of paraquat are not likely to survive."
Do I have a case?
If you or a loved one have been diagnosed with Parkinson's disease after working in agriculture, being a farm worker, or living in an area near farms, orchards, or vineyards, you may be entitled to receive compensation for:
Medical bills
Pain and suffering
Disability or permanent injury
Lost wages/loss of earning capability
Punitive damages
Rehabilitation costs
The defective products attorneys at McWhirter, Bellinger & Associates have been fighting for victims of dangerous products for over 40 years. Our experience speaks for itself, and we will do everything we can to fight for you.
We have offices throughout the state, in Aiken, Camden, Columbia, Lexington, Newberry, Orangeburg, and Sumter.
If you believe your Parkinson's disease may have been caused by paraquat use, call us right away at 803-590-9242 for a free case evaluation. It won't cost you anything to see if we can help.